As much as I love trying out new skincare and mixing it up, I can't help but return to old faithfuls that I know do the job, and the Aesop Parsley Seed skincare range is one. I've used the range for years, and it's one of those funny things where I realised I've never spoken about it on the blog.
I was introduced to the Parsley Seed range by a friend who is a massive Aesop fan. I'd always loved the look of the brand, but new it could be a little pricey and always thought it was more about the smells than the efficacy. But I am happy to admit I was wrong.
Parsley seed is a seriously underrated and undervalued ingredient; parsley seed extract packs some seriously powerful, restorative properties. Packed with vitamin C and anti-oxidants, Parsley seed extract can fight the signs of ageing, reduce inflammation and fight the damage caused by environmental factors.
The Aesop range is really extensive, and there are a few I haven't tried, but in my arsenal is the Toner, Cleanser, Masque, Eye Serum and Hydrator. For an added power hit, I blend Aesop's dried tea tree leaf scrub with the cleanser for an intense exfoliation.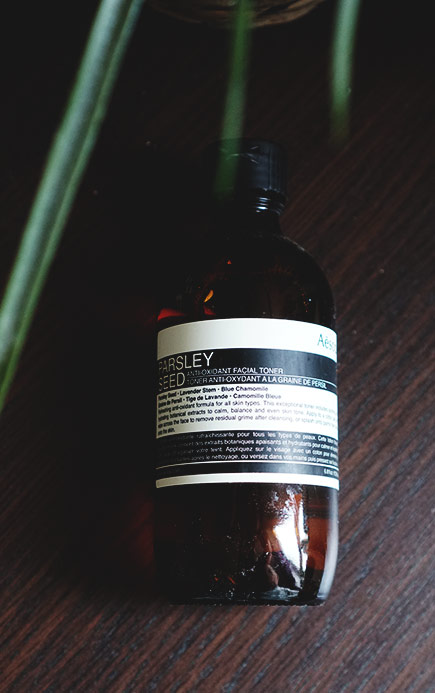 I've never been one to use a toner until I started using the Aesop one. It's an alcohol-free, anti-oxidant rich formulation that soothes and balances the skin while preparing it for hydration. I use it with cotton pads after cleansing and follow up with the hydrator.
It find it mild on my skin, and the brand says it can be used on all skin types. It's blended with Lavender Stem and Blue Chamomile so it smells absolutely incredible.
My other favourite is the Masque. I bloody love a good face mask. This lightweight formulation has a complex blend of anti-oxidant and skin-softening ingredients made on a soothing Aloe Vera base. I use it one or two times a week after cleansing, exfoliating and pat-drying my skin. I tend to leave it on for around 10-15 minutes.
Masque helps to hydrate, calm and fortify the skin and leaves it feeling smooth and deeply cleansed. Another star for the sense, the Masque is blended with Rosehip Seed and Evening Primrose.
You really can't beat Aesop, the Parsley Seed range smells incredible and really makes an obvious difference. And, as is the lure for most Aesop fans, the packaging is really stylish and looks premium on any bathroom shelf.
Shop Aesop Parsley Seed Skincare