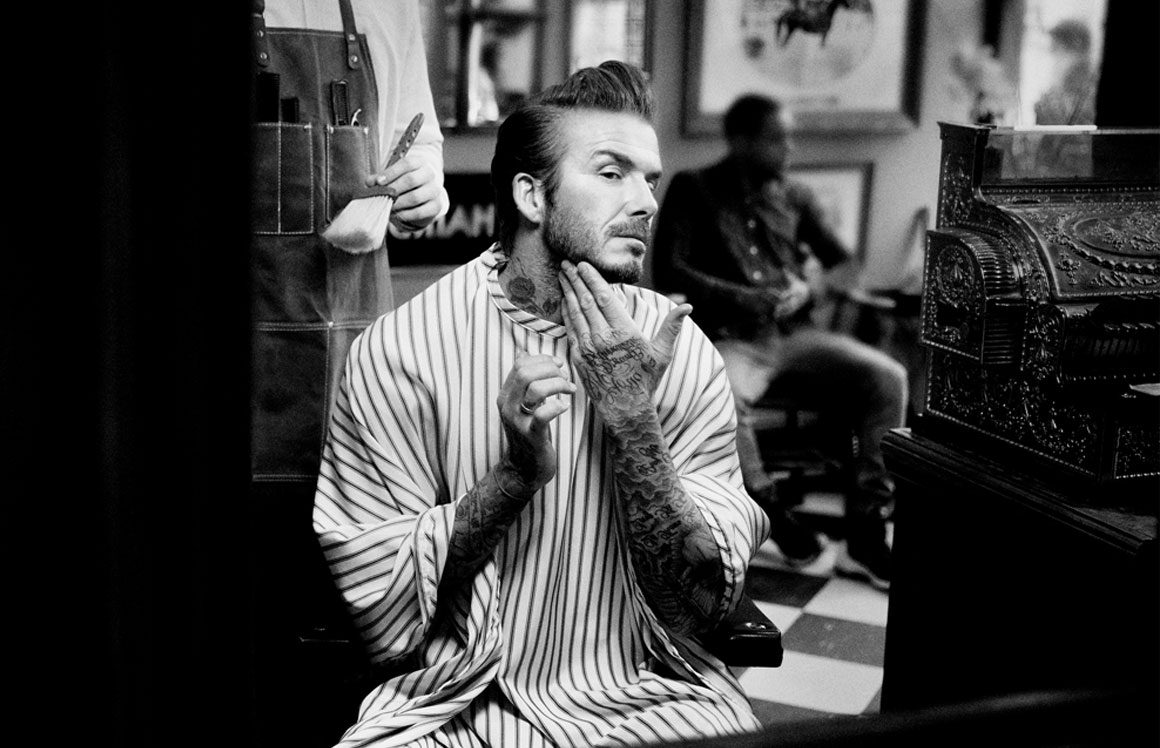 He's been a style icon for years, and now David Beckham is setting his sights on the grooming world with the launch House 99 by David Beckham, a 21-piece men's grooming range that covers skin, hair, beard and body. Welcome to the house.
Behind House 99 by David Beckham
Created in partnership with beauty giant L'Oreal and men's grooming experts Biotherm Homme, House 99 has been self-styled as the 'new community in men's grooming'. A place for men to discover their next look, and to experiment with what they have already. It's also a fast-track way for you to achieve David Beckham's look. House 99 believes that grooming plays a vital part in a man's journey to finding his own personal style. The range is built out form a DNA of superfoods like quinoa and Spirulina that are rich in antioxidants and vitamins that illuminate the skin, energise and revitalise the body and strengthen hair and beard fibres.
"For me, grooming is not only about how you look, but how you feel. It's about being comfortable, trying new things and shaping your next look. I created House 99 to give people the inspiration as well as the right products to try out something different and feel completely at home doing so. House 99 is here to support men, to give them the tools they need to create whatever look they are going for." David Beckham
Why House 99?
There's a duality to the name House 99; the 'House' represents the community the brand hopes to bring together. It means that everyone is welcome. Whereas '99' may be slightly more obvious to long-time fans of David Beckham. 1999 was a big year for the footballing legend, on and off the field. Manchester United won the treble, he married his fiancé, the former Spice Girl turned designer icon Victoria, and he welcomed his first son, Brooklyn, into the world. For David, the '99' also represents how he sees the world. With '99', there's always one more to go. The House 99 logo is also inspired by his own tattoo.
The Collection
House 99 aims to be a one-stop-shop for all men's grooming needs. The simple and sleek packaging makes it a product you're happy to display and tote around in your gym kit, and there's something to suit every need.
A generation's hairspiration
It's only right that House 99 is built on a backbone of hair care products. Beckham's hair styles have been a source of inspiration for men the world over, and there's been quite a few to choose from; the slick back, the pompadour and the buzz cut to name but a few. There's also been some misses that can't go unmentioned — we all remember the cornrows, right?
The House 99 hair range is based around achieving four key styles – the slick back, the pompadour, the quiff and the crew cut – and is made up of a pomade, a clay, styling gel and hair spray.
A bearded brotherhood
Not just thinking about the hair on top of your head, the collection also features a range of beard care products. If you're a clean shaven kinda guy, there's a shaving stick, cream and foam. For those living the hirsute life there's a balm and oil to nourish your beard and a scrub to help keep it clean. Learn how to master your beard with my tutorial.
Look after the skin you're in
Up next there's skincare, which is aimed and offering an effortless daily routine for every man. The range consists of a moisturiser, eye balm, face wash SPF moisturiser and toning lotion.
For the rest of your body there's the staple wash and deodorant, but finishing off the range is a rather unique tattoo moisturiser. Beckham is known for his tats, so it stands to reason that he would want to see a moisturiser in the collection that was dedicated to the ink. The moisturiser hydrates the skin to optimal levels and offers UV protection, reducing the effects of the sun and keeping the skin luminous. Learn the skincare basics.
Tried and Tested: My thoughts on House 99 by David Beckham
So I was lucky enough to get my hands on the range before launch, including the daily moisturiser, eye balm, hair pomade, beard oil and balms.
I wasn't expecting anything ground breaking, as the price point is relatively low sitting at around 11-26 pound, and to be honest it really isn't, but I was expecting quality since it's in partnership with Biotherm Homme. For the most part I haven't been disappointed.  While I found core products like the wash and moisturiser to be as standard as expected and not really noteworthy, there were some key products worthy of consideration.
The eye balm offers efficient hydration without feeling sticky, which is my number one bugbear usually, while with the pomade a little goes a long way. I have shorter hair which I wear blow-dried back or messy so these products are perfect. I rub a small amount into the fingers and palm and scratch though to lift at the root. The downside its the texture on the hand feels a little cheap, but it's fine in the hair.
My hero product has to be the Seriously Groomed Beard & Hair Balm. I love a balm over an oil for day-to-day care (mainly due to oil accidents on clothes!), and this one is perfect. Super light, super quick to absorb and most importantly it softened my hair almost immediately. So much so I'm considering switching to this from my standard balm from here on in.
My only overall negative is the fragrance. I didn't really feel any of the products had any. And while that can be a plus side. A hint of something can add gravitas to a product, especially a beard oil.
House 99 by David Beckham is available from Thursday 1 February exclusively from Harvey Nichols on launch before rolling out nationwide in March.
Still looking to master your own grooming routine? Read the most common men's grooming questions I get asked.