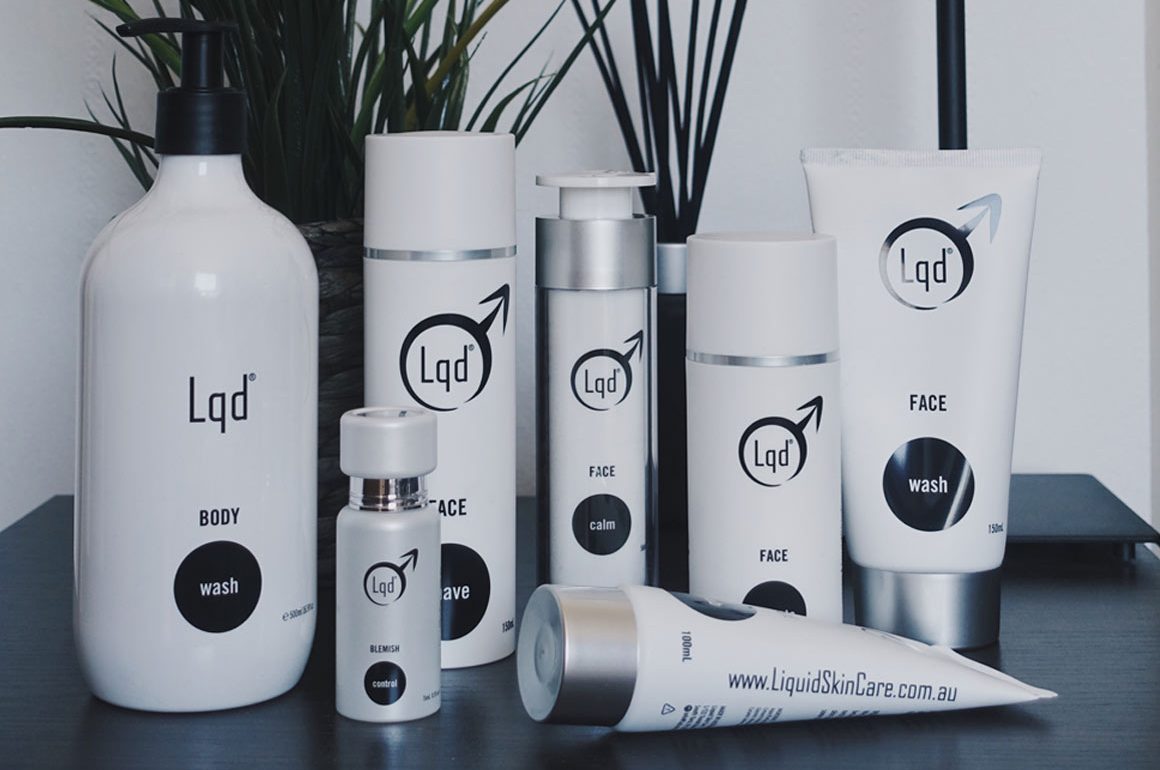 Australia is known for many things, including and not limited to: kangaroos, spiders, blistering sun, beautiful people, aircraft black boxes, spiders, stunning landscapes, fun first names like Bruce and Sheila, snakes and sharks. Oh, and did I mention spiders? But now there's one more thing to add the ever-growing list; skincare. Step forward LQD skincare. As the men's grooming market continues to boom, it's the far fetched lands of Australia and New Zealand that are producing some of the most sought-after products on the market.
Lqd, meaning 'liquid' wants to strip away the BS of mass-product marketing and put the efficacy of quality products front and centre. They want to offer men the ability to chose the right product for themselves without the usual confusion. The brainchild of former organic chemist Anthony McDonough, Lqd came to life after he met Chris Glebatsas who pushed him to make his dream a reality. I was able to meet up with the duo at London Fashion Week Men's where they were set up as one of the event's sponsors.
About Lqd skincare
Developed in Australia under one of the world's harshest climates comes a range of skin care products created exclusively by men for mankind, with a philosophy based around helping men look the best they can. Utilising the latest breakthroughs in skin care science, Lqd has developed a no-nonsense, uniquely masculine collection of award winning products that deliver exactly what they promise, without the marketing hype.
The Lqd skincare range
I've been very lucky to have been able to try the whole Lqd range; and first and foremost, what I love about it that it's minimal and un-fussy. Everything does what it says on the tin - you have the face wash, face scrub, and shave gel then next there's the moisturisers, split by use; blemish control, hydration and calming. Finally there's the eye restore, of course, (and you all know how much I love an eye cream).
I used the Lqd skincare range exclusively for two weeks and noticed an almost immediate change in my skin. With the recent heatwave and the heavy training I've been doing at Barry's Bootcamp, my skin has taken a battering. Within days my skin felt noticeably calmer and fresher. My skin had a bounce again and my eyes were no longer looking drawn. I did experience a few blemishes when I first started using it, which can happen some times with new products. But it calmed down soon enough (with the help of the calm balm funnily enough).
Next up I have to talk about the scrub. The scrub has got to be one of the 'scrubbiest' scrubs around, it felt so good as I rubbed it on my face and the shave cream, although slightly dubious in it's appearance, made shaving a breeze. I also love a sizable body wash that can sit in your shower and will large ages!
In conclusion
All things considered, I do think the key thing that makes Lqd great, as I said earlier, is it's simplicity. There aren't a million combinations to use, just a clear and concise edit of product that helps encourage a solid routine. for this reason, I think Lqd Skincare deserves attention.
Lqd is available exclusively at Harrods. You have to go and check out the amazing Lqd wall they have built, look at the sneak peek below.
See more grooming posts here