A couple years ago I made it my mission to see more of Europe. I told myself I would focus on short-haul trips over countries further afield. Since then, I have been lucky enough to tick of some of the major places on my bucket list. But there are so many smaller European locations I haven't seen, and many I hadn't even thought of. Slovenia being one of them. When you try to think of LGBTQ+ friendly countries in Europe, you'd be forgiven if Slovenia didn't immediately spring to mind, it certainly didn't for me considering their recent government elections and the country's past voting history. But, nestled between Northern Italy and Croatia, Slovenia's beautiful landscape begs to be seen first-hand. So here is my guide to gay Slovenia.
I was invited to Slovenia by the founders of Pink Week. Now in its fifth year, Pink Week is a five day long cultural experience of Slovenia where LGBTQ+ travellers can purchase holiday packages that showcase Slovenia in all of its glory. Hosted by Luxury Slovenia (an LGBT-owned travel company who are also the founders of Pink Week) and supported by the city and national tourism boards, Pink Week isn't so much about a 'gay' experience, but more about showing off that this beautiful country is there to be enjoyed by everyone.
Day one: Arrival in Slovenia
We arrived in Slovenia late Wednesday afternoon and were met by our driver who took us to our first destination; Lipica Stud Farm. (Yes, the lol of the name was not lost on us either). Lipica Stud Farm is named so because it's the home to hundreds of Lipizzaner horses, a beautiful breed of horse that are born black and then turn pure white (the Queen once owned one, and they fetch a hefty price). These show horses are sired here and trained to be the ultimate performers.
Once we had checked into the hotel (we stayed in the Hotel Maestoso, which is on the farm), the trip began with welcome drinks and a beautiful five-course dinner (the multiple course dinners would become a main feature of the trip). At dinner, we were joined by A wine expert who talked us through each of the wine pairings and some of Slovenia's most famous wines. Now, I'm not a wine drinker by choice, but I will say now that after this trip I consider myself a wine drinker. Slovenian wine is some of the best I've had by far.
An interesting anecdote I learned at dinner is that Prosecco is actually a Slovenian word, and it comes from the town Prosecco that used to be Slovenian territory before being annexed by Italy.
After multiple more glasses of wine, it was time to retire to bed in the slim hope of being fresh for the next day.
Day two: Lipica Stud Farm tour and picnic
The next morning, after filling our boots at the buffet breakfast, it was time to tour the farm. The farm is beautiful, a wash with beautiful green fields and horse-raising paddocks. All of the mares had foals, all black as the night compared to their pristine-white mothers, and they trotted over to us so we could pet them as we were told their back story. There was supposed to be a chance to go horse riding the day before, but due to plane delays we couldn't. Now having seen them up close, a little part of me was really gutted, I haven't been horse riding in ages.
The closest we managed to get was taking a beautiful horse-drawn carriage ride around the farm. It was a beautiful moment; a chance to chat and laugh while enjoying beautiful sun-drenched scenery and a cool breeze.
After the carriage ride it was time for a picnic. It had actually become very cloudy at this time and began to drizzle, but under the protection of large canopies, it was actually a beautiful lunch, the smell of rain and wet grass met with the smell of fresh food; meats, pastries, salads, risotto and pastas. After lunch we were able to enjoy some free time to wander the farm and relax.
As the last drop of wine was consumed, we were treated to the spectacle of the horse stampede. OK, so we aren't talking Simba and the Lion King here, but as the horses are moved between paddocks, they all begin to gallop at speed down the path. It's quite something to see a hundred horses running as one.
It was now time for more food. Still full from lunch, we rushed back to the hotel for a 10-minute power nap, a shower and change in order to meet the coach on time. We were off to a surprise destination for dinner.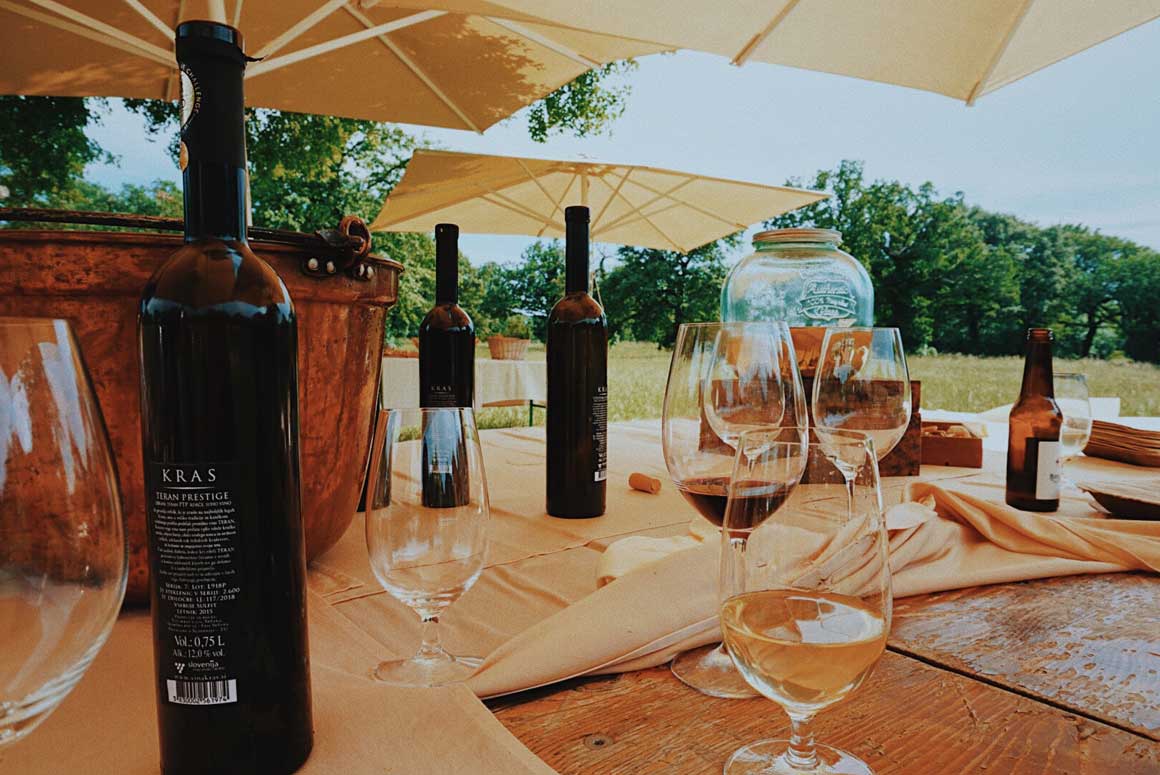 Nestled in the heart of a little village not far from the farm, we dined (on multiple course, naturally) at this beautiful little restaurant who's head chef was a mere 21 years old, but who showcased a taste and skill level of a Michelin-starred chef much his senior. One of the courses was octopus tentacle …now, I am relatively new to seafood and haven't quite built myself to being able to eat much beyond calamari. I need it to not look like the actual creature, yet right in front of me sat a whole octopus tentacle. *Internal scream.*
Like any true queen, I channelled my inner Elizabeth (she was known for eating whatever her local commonwealth host would put in front of her, and always with a smile on her face – it's called diplomacy apparently) and kept my feelings internalised in fear of offending our hosts with my horror.
I tucked in the solid tentacle and turned my thoughts elsewhere. It didn't actually taste bad at all, it was all just the thought of what I was actually eating.
After dinner it was time to go back to the farm for some fun at the casino (the farm hosts a fully licenced casino on the grounds). Now, I'm no gambler so this story stops pretty quickly for me. After almost winning at the most serious game of Bingo I've ever played (and the first in a long time that wasn't hosted by a drag queen), I put a few Euros into a game on the slot machine before watching the others win and loose on roulette. Time for bed.
Day three: Postojna Cave, Predjama Castle, arriving in Ljubljana
I had really been looking forward to this part of the trip, as it was time to visit the Postojna Cave. The largest underground cave system in all of Europe and one of the largest in the world, it's hard to describe how awesome this place is, but to give you a sense of scale, we had to take a 10 minutes, 2km train underground through the caves just to get to the walkable part.
The cave was a text book display of stalagmites (the ones that grow up) and stalactie (the ones that grow down). It's insane to think how old these parts as they only grow a centermeter every 100 or so years (and some of them were VERY long).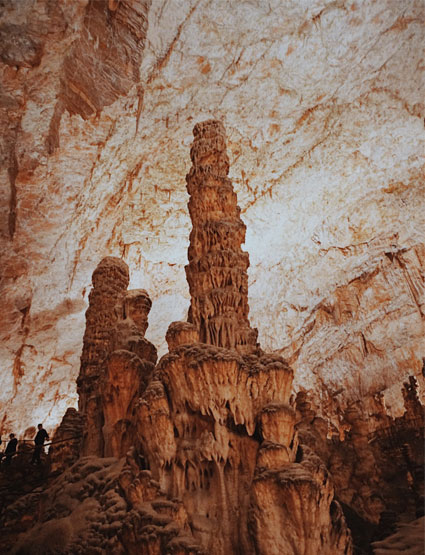 After the caves we headed over to Predjama caslte for a tour. This Renaissance castle was built within a cave mouth making it hard to access during times of war, the perfect hide out.
By this time It was mid afternoon and we had a bunch on hungry homos on our hands which can be dangerous, so it was time to eat.
After lunch we finished our journey to Ljubljana (pronounced lube-lee-arna), Slovenia's capital. We had a couple hours to chill and get ready before heading out on a boat tour along the city's main river, the Ljubljanica river, and then heading for dinner.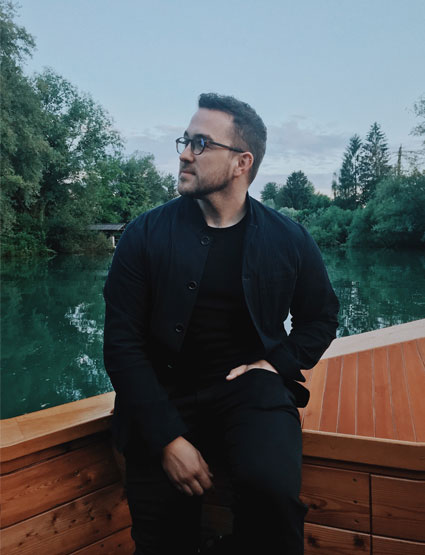 After dinner we headed out for our first experience of gay Slovenia nightlife in LjubLjana. While the capital doesn't have an official gay neighbourhood (gaybourhood?) like many other European cities, it isn't lacking in a gay nightlife. Klub Tiffany is the only real gay club in Ljubljana, and acts as the city's queer cultural centre.
Day four: Lake Bled and the Dragon's Ball
Now this was easily one of my favourite moments from the trip. Lake Bled is a lake in the Julian Alps in northwestern Slovenia that has a small island in the middle. It's one the most beautiful places, the perfect location for a relaxed day. We were rowed over to the island for a visit to the 17th century church that sits on the island. We wandered, enjoyed the views, the sun and some local ice cream. On our way back to the mainland, we found out our oarsman was infact and ex Slovenian Olympic rower who now, at the age of 72, was enjoying semi-retired life on the lake.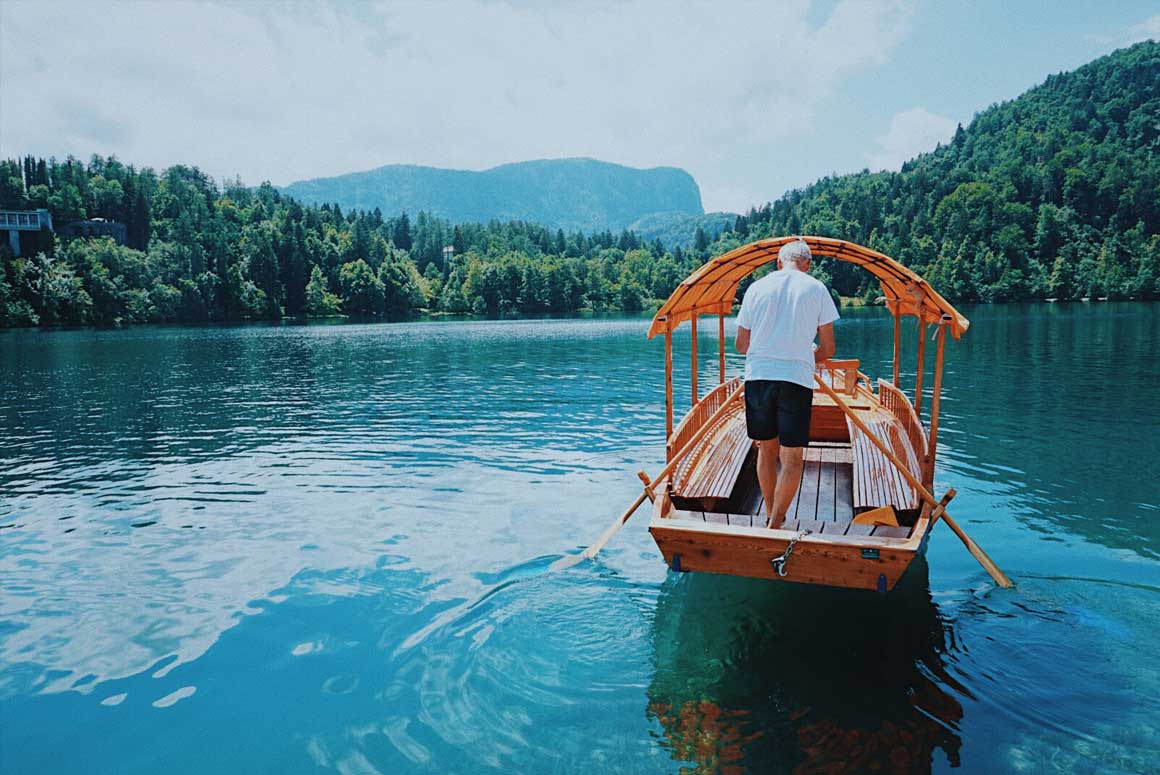 Post-lunch, it was time to head back to the hotel to get ready for the main event of our trip, the Dragon's Ball.
The Dragon's Ball, named after the capital's symbol, is a gala dinner that rounds off Pink Week. After a sit-down, multiple-course meal at the Intercontinental Hotel with around 100 guests we were chauffeured by a fleet of Mercedes cars to the after party, which just so happened to be in the castle that sits in the center of the city, overlooking everything.  Ljubljana Castle was a stunning location for a party, and boy did we party! The drinks flowed, the music pumped with the sounds of local musical talents and international DJs, and we danced the night away as only gays know how.
At some point in the early hours we decided to vacate the castle and make our way to a club, one which I can't for the life of me remember the name of! It was around 6.30am when my head finally hit the pillow, painfully aware of how soon I had to get up to check out.
Day Five: Exploring Ljubljana and heading home
My alarm beeps, it's only 10am. I've been asleep a whole three hours. I blearily look around the room. Am I hanging? Am I still drunk? I realise I must get downstairs to the breakfast to feast before any hangover kicks in. I get out of bed and stand, and then promptly topple over into the wall. Yup, still drunk.
Several rounds at the buffet bar and multiple espresso later I am feeling human. I head back to the room to pack and check out. Our flight wasn't until the evening so we left our suitcases and went off into the city. There's enough to do on a lazy day, form cafes to city parks and hire-able bikes à la London's Boris Bikes.
The end of the gay Slovenia adventure
We packed so much into our trip, I'm still amazed we managed it all. Slovenia is a beautiful country, and I'm 100% going back to visit Lake Bled for longer. It's a great choice for a long weekend. It's going to be interesting to see how Pink Week and gay culture in Slovenia develops with the latest political news, and I'd love to see it's gay club sites expanding further beyond Klub Tiffany (though there were lots of very gay-friendly places).
For more info on Pink Week, click here.
For more Travel Guides, click here.
Disclaimer: My Pink Week experience was provided by Luxury Slovenia.