Rosie Huntington-Whiteley continues to impress on her global premire fashion marathon.
RHW (That name albiet beautiful is just to long to keep typing) has been turning heads non -stop lately. It has become impossible to pick up a glossy mag without seeing her face/body/legs sprawled all over it.
She is coming to the end of a whirlwind tour of premiers for her blockbuster film 'Transformers: Dark side of the Moon', and while her acting promise is being hailed by many, it is her fashion prowess that is really setting tongues wagging (not that you wouldn't expect it from a Victoria's Secret model).
The Devonshire born beauty is taking the world by storm, with her stunning features, which remind me of the brazilian beauty Gisele Bundchen, amazing body and demure allure. She is fast becoming the one to watch, and the one to beat on the red carpet.
She seems to favour the full-length gown, but with a thigh-high slit to show off those incredible pins. This is usually matches with a plunging neck line or open back. What can we say, the girl loves her some skin.
As the world's top 'up-and-coming' icon, she gets the pic of the best fashion around with all designers throwing their best at her and being the faces of Burberry helps too I imagine.
Here are my top 5 personal favourites: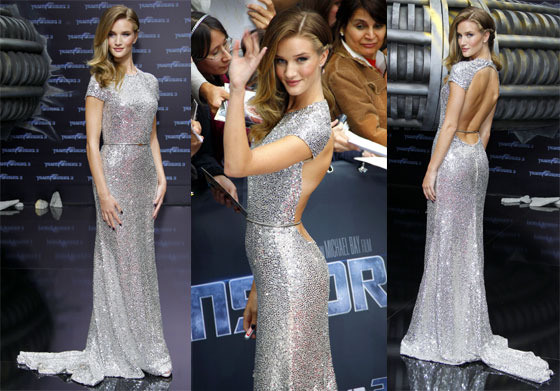 1) Classic Chic in Berlin
Miss HW looks picture perfect in this stunning dress by Naeem Kahn at the Berlin premiere of her latest flick. I love the fact that from the front it is covered up, chic and so so so classy - yet from the back it is sheer showgirl, the low cut revealing her slender toned back.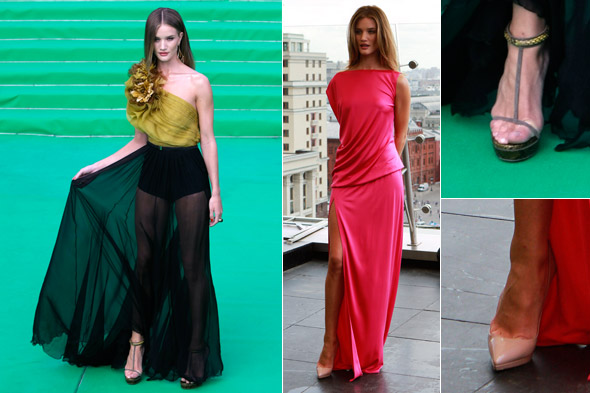 2) Transformers 3 premiere in Moscow
Now, not content with one dress per event, which seems to be a trend with this lady, RHW donned two outfits for her stop over in Moscow. Now the dress I love and think is one her greatest is the fuchsia floor-length Michael Kors gown that she wore to the press event.  Seeing as Rosie tends to favour the whites and nudes, this was a bold step and a very welcome change. matches with soft hair and make-up I think this dress will go down as one of her best. Her second outfit which she wore for the green carpet premiere was by Gucci, now I am not 100% behind this out fit, she does look incredible but i just don't personal like the whole sheer skirt exposed legs and large black pants look (remember Madonna did it at the oscars party).

3) RHW rolls with the best of them at the Met Gala
In her signature Burberry (Porsum, designed by Christopher Bailey), Rosie is dressed to the nines and cements her status as one of the fashion icons of current times. The beautiful cherry pink dress does her so many favours. It emphasises her stunning complexion and the high slit once again shows of her toned legs. The hair is again long and flowing giving her that recognisable etherial grace.
…oh and unrelated but amazing - as I was looking for photos of this dress I came across this pics of Rosie the morning after the night before - no make up and hungover and still a godess, so unfair.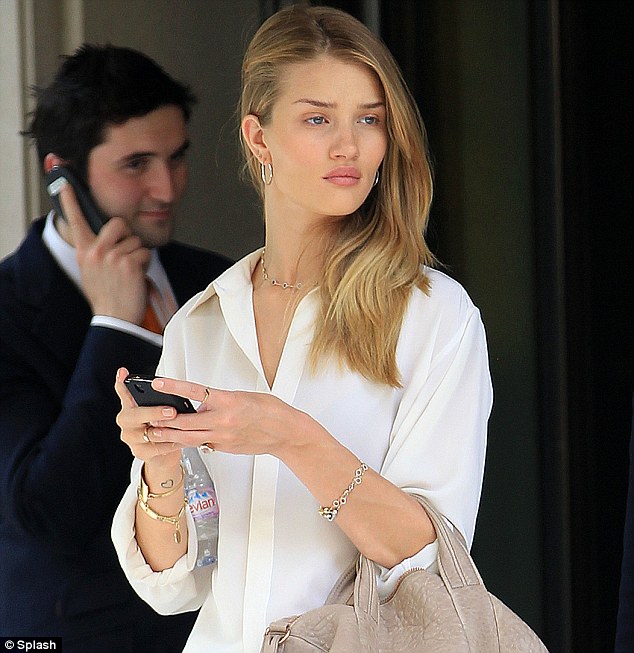 4) Gear shift at the MTV Movie Awards
Rosie turned it up a gear at the MTV Movie Awards this year. In a break from tradition she opted for an above the knee dress with an in-your-face print. This Dolce & Gabana reeks of primal sex appeal. She looks fierce and it shows how fashion-wise she is, opting for a younger, fresher and more edgier look to suit the tone of the event she's at.  Easily one of the favourites, the print is effortlessly cool.
5) Effortless style at the 2011 Glamour Awards
Back on home turf, Rosie returns to her staple nude floor length, thigh-high slit. She looks on trend and effortlessly chic in this beautiful champagne silk pleated bottom Stella McCartney gown at the Glamour Women of the year awards, at which our girl Rosie won the top award. She teamed the outfit (a very popular dress with clients at my work) whith classic nude Christian Louboutin pumps (also a client favourite) and a Salvatore Ferragamo clutch.