It's nearly that time of year again, when men from all walks of life and from different countries around the world unite in a bid to grow, in many cases hilarious and unflattering, moustaches for charity. Movember is truly a beast like no other – since it's founding in 2003, where just 30 Mo's (the title bestowed upon a registered participant) were a part of the cause and raised nothing, Movember has grown into a cultural movement in the fight against men's cancers and mental health issues with over 1.1 million registered Mo's and millions upon millions of pounds raised.
For 2013, Movember is taking another step in its fundraising initiative with the release of it's debut range of apparel and accessories. Dubbed 'The Movember Collection', the range is designed by Movember co-founder Travis Garone and will feature two men's t-shirts, a women's t-shirt and a shave bag filled with grooming products – all are available via movember.com.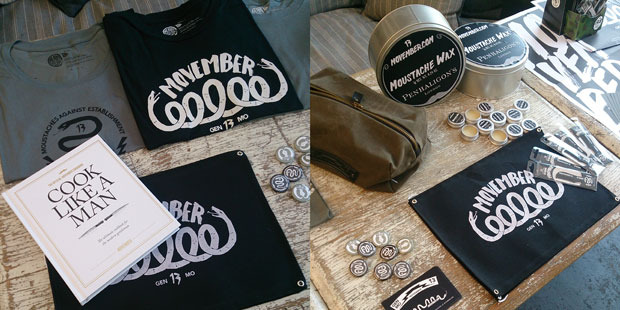 The canvas grooming bag offers the perfect stow away for any travelling essentials, or even simple storage for you bathroom at home. Made from a tougher canvas, the wash bag has a masculine finish with Movember branding. The grooming kit comes with a Gillette Fusion Proglide Slider, a neat, hand-polished Kent Movember moustache comb and Penhaligons' special edition moustache wax. All subject to availability.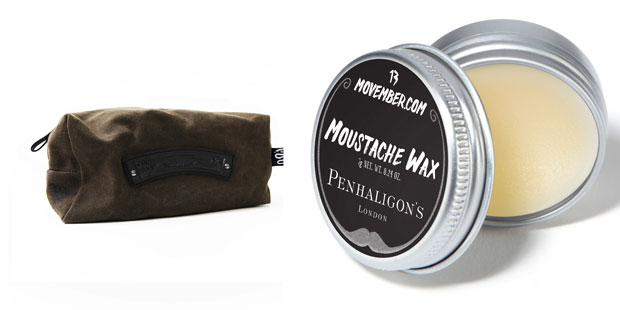 Of course Movember also continues it's now staple partnerships and collaborations on a range of products. From moustache-themed shoes from TOMS and t-shirts from ELEVENPARIS, to scarves from Becks?ndergaard and jewellery from Links of London as well as Lucky Seven's caps. Gillette are also doing their part and donating a portion of the sales of selected grooming equipment.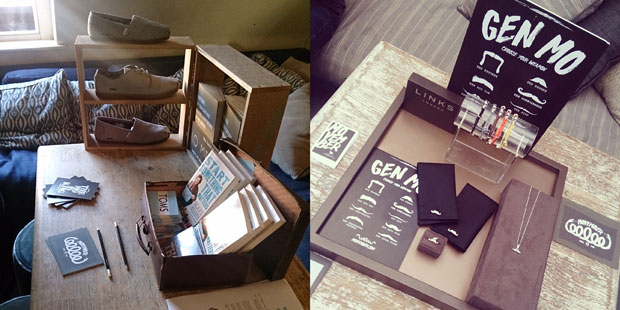 A final and exciting project from Movember this year is a stunning cook book called 'Cook Like A Man' – completely established, shot and collated in house in collaboration with associated chefs globally. The book is a stunning hardback and a total steal at £10 – and for charity. Gift for every man for Christmas, done!
The lines launch over the next week and throughout Movember we will be looking in depth at the different collaborations on offer, so watch this space.
Will you be taking part this Movember? Or are you opting for simply donating cash in absence of growing the tash?
Check out Movember's jaunty little video chronicling their history:
- Neil Thornton
View the ranges and find out more at uk.Movember.com
Check out more of my articles are other awesome things going down at Planetnotion.com