One of my favourite fashion trends for men's clothing for Autumn/Winter '11, and to be honest one of my favourite items of clothing in general, is the jumper.
A versatile and practical wardrobe staple, the jumper has been a part of men's clothing collections for generations.

This season, the knit is back with a vengeance, in every form and colour; from oversized chunky cotton knits to figure hugging luxury cashmere and merino wool additions, this guide is going to take your through some of the top styles about and where you can find them.
Smart versus Casual
The great thing about jumpers is their versatility. They come in slouchy casual forms as well the tidier close fitting varieties, both of which can be used to dress up or down everyday looks.
My top picks
Simple and effective
For my workwear, a jumper is my staple finisher. I have them in every colour. My favourite is the Merino Wool knits from UNIQLO. These jumpers are a luxe addition to any wardrobe, and fit nicely to the body. Teamed with smart trousers, slim fit/skinny jeans and smart shoes, they work as the perfect complement to a smart-casual style.
Avaiable in a variety of colours (yes, I have most of them) these jumpers are cost effective at a tidy £29.90, especially when considering their composition and build quality.
Available for limited time at £19.90!
Fashion forward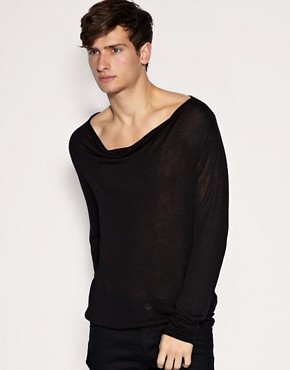 When I want to work a more directional style, I simply keep the same paired separates but swap the jumper for a more adventurous cut. A great example is this cowl-neck jumper from ASOS.com
New season must-haves
One addition, which is a must-have for all wardrobes, is the ever-prevalent Fair Isle. A massive favourite for the past two A/W seasons, this knit shows no sign of waning in popularity.
With the Fair Isle, it's possible to blend multiple trends. With Heritage still a sartorial staple, and the move towards a more unrestrained male with bold colours and prints, the Fair Isle is available in many outlandish colour-ways. Again with the versatility, the Fair Isle can be dressed up or down depending on occasion.
Top Fair Isle picks
Bold colour
                                          http://bit.ly/nqUOhW - Topman @ £28
Understated cool
                      http://bit.ly/mQyRKG - Selfridges - Burberry Porsum @ £575
                                          http://bit.ly/np0qhY - Asos.com @£26
Cardigan variety
                                           http://bit.ly/pSnv46 - All Saints @ £85
What colour should I go for?
Any colour will suit; it just depends on you, if your want to go seasonal go for autumnal colours like burgundy, yellow, scarlet and mustard.
What do I wear it with?
Jumpers can be worked with anything.
Bottom – smart or casual trousers and shoes, either works just go for complementary colours.
Top half - for the coming season – pair it with other key A/W trends such as:
Trench
Snood
Quilted jacket